Cast and Crew
Creator: Greg Daniels, Ricky Gervais, Stephen Merchant
Leading Role: Rainn Wilson, John Krasinski, Jenna Fischer, B.J. Novak, Leslie David Baker, Brian Baumgartner, Angela Kinsey, Phyllis Smith
Summary of The Office Season 1-9 DVD Box Set

Season 1

The first season consisted of six episodes. The series begins by introducing The Office's workers via a tour given by branch manager Michael Scott for both the camera crew and a first-day temp (Ryan Howard).The audience learns salesman Jim Halpert has a crush on receptionist Pam Beesly (who helps him play pranks on co-worker Dwight Schrute), even though she is engaged to Roy (who works in the building's lower-level warehouse). News spreads throughout The Office that Dunder Mifflin's corporate headquarters is planning to downsize an entire branch, leading to general anxiety, but Michael chooses to deny or downplay the realities of the situation in order to maintain employee morale.

Season 2

The second season was the series' first full (twenty-two episode) season, and had its first 40-minute "super-sized" episode. Many workers seen in the background of the first season were developed into secondary characters, while the general threat of downsizing continued. Romantic relationships begin to develop between some of the characters. Michael spends the night with his boss Jan, in the wake of the latter's divorce, but does not sleep with her. Dwight and Angela become romantically involved, but keep the relationship a secret from everyone else. Kelly develops a crush on Ryan, and they start dating. When Roy sets a date for his wedding to Pam, Jim grows depressed and considers transferring to the Stamford, Connecticut branch, but tells Pam in the season finale that he loves her, even though Pam still insists she will marry Roy. The two kiss, but Jim transfers to the Stamford branch soon after.

Season 3

The third season consisted of 25 half-hours of material, divided into 17 half-hour episodes, four 40-minute "super-sized" episodes, and two one-hour episodes. Jim briefly transfers to Stamford branch after Pam confirmed her commitment to Roy, before corporate is forced to merge the Stamford branch and staff into the Scranton branch. Included in the transfer to Scranton are Karen Filippelli, with whom Jim has developed a relationship, and the anger-prone Andy Bernard. Pam is newly single after calling off her marriage and relationship to Roy prior to the merger, and Jim's unresolved feelings for her and new relationship with Karen lead to shifting tensions amongst the three. Meanwhile, Michael and Jan's relationship escalates which causes her to behave erratically on the job while Dwight and Angela continue their secret relationship. In the season's finale, Jim, Karen, and Michael interview for a corporate position that turns out to be Jan's, who is fired that day for poor performance. Jim wins and rejects the offer off-screen, opting instead to return to Scranton without Karen and asks Pam out on a date, which she joyfully accepts. In the final scene, we learn Ryan has been awarded Jan's job due to his business school credentials.

Season 4

NBC ordered a full fourth season of 30 half-hour episodes, but ended with only 19 due to a halt in production caused by the 2007–2008 Writers Guild of America strike. The season consisted of 9 half-hour episodes, and 5 hour-long episodes to comprise the 19 total episodes of material created. Karen has left the Scranton branch after her breakup with Jim, and becomes regional manager at the Utica branch. Pam and Jim date happily. An unemployed Jan moves in with Michael, until the dissolution of their relationship midway through the season. After Dwight's crude (though well-intentioned) method of euthanasia of Angela's ailing cat without her permission,she leaves him for Andy, leading Dwight into depression. Ryan, in his new corporate life in New York City, attempts to modernize Dunder Mifflin with a new website for online sales; he also learns that his boss, David Wallace, favors Jim, and thus Ryan attempts to sabotage Jim's career. Ryan is soon arrested and fired for committing fraud related to the website's sales numbers. Toby, embarrassed after accidentally revealing an affection for Pam, announces he is moving to Costa Rica, and is replaced by Holly Flax, who quickly shows fondness towards Michael. Pam decides to follow her artistic interests and attend a three-month graphic design course at the Pratt Institute in New York City. In the season finale Andy proposes to Angela, who reluctantly agrees. Phyllis then catches Dwight and Angela having sex in The Office.

Season 5

The fifth season consisted of 28 half-hours of material, divided into 24 half-hour episodes and two hour-long episodes, one of which aired after Super Bowl XLIII. Jim and Pam become engaged, and she ultimately returns from New York to Scranton, where Jim has bought his parents' house for the two of them. Having avoided jail and only been sentenced to community service, Ryan returns to Dunder Mifflin as a temp. Michael initiates a romance with Holly until she is transferred to the Nashua, New Hampshire branch and the relationship ends. When Andy is made aware of Dwight and Angela's continued affair, both men leave her. Newly hired Vice President Charles Miner implements a rigid managerial style over the branch that causes Michael to resign in protest. Michael opens the Michael Scott Paper Company, enticing Pam and Ryan to join as salespeople, and though his business model is ultimately unsustainable, Dunder Mifflin's profits are immediately threatened. In a buyout of the Michael Scott Paper Company, the three are rehired with Pam promoted to sales and Ryan returning as a temp. During the chaos, new receptionist Erin is hired to fill the vacancy originally left by Pam. The season's finale ends with a cliffhanger ending hinting that Pam might be pregnant.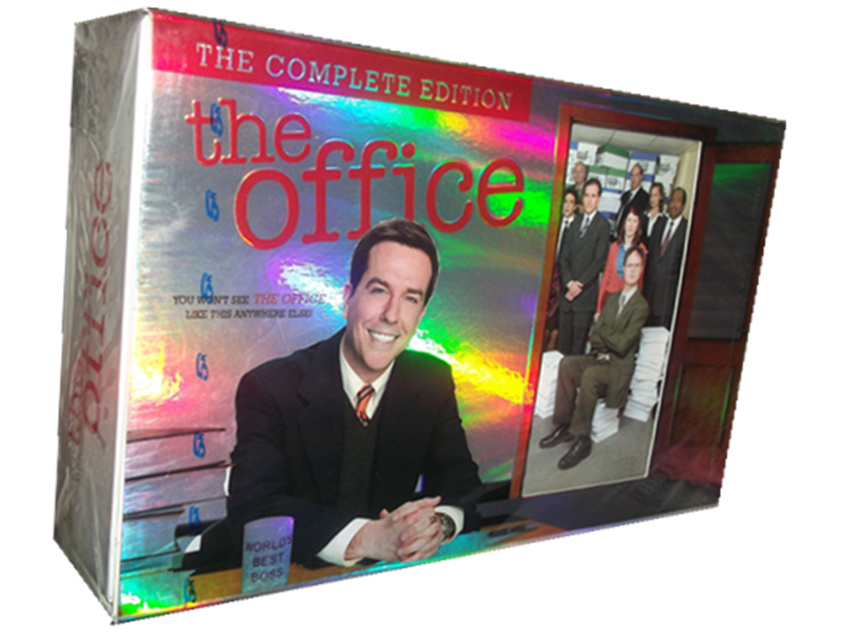 Season 6

The sixth season consisted of 26 half-hours of material, divided into 22 half-hour episodes and two hour-long episodes. Jim and Pam marry and have a baby named Cecelia Marie Halpert. Meanwhile, Andy and Erin develop mutual interest in one another, but find their inherent awkwardness inhibits his attempts to ask her out on a date. Rumors of bankruptcy begin to surround Dunder Mifflin. By Christmas, Wallace announces to the branch that Dunder Mifflin has accepted a buyout from Sabre Corporation, a printer company. While Wallace and other ex ecutives are let go, the Scranton office survives due to its relative success within the company. In the season finale, Dwight buys The Office park. Michael agrees to make an announcement to the press regarding a case of faulty printers. When Jo Bennet, Sabre CEO, asks how she can repay him, Michael responds that she could bring Holly back to the Scranton branch.

Season 7

The seventh season consisted of 26 half-hours of material, divided into 22 half-hour episodes and two hour-long episodes. This is the final season for Steve Carell, who plays the lead character Michael Scott, as Carell wanted to move on after his contract expired during this season. Beginning with this season, Zach Woods, who portrays Gabe Lewis, was promoted to a series regular. Erin and Gabe have begun a relationship, much to Andy's chagrin, and he attempts to win her affection back. Michael's former girlfriend, Holly returns to Scranton to fill in for Toby who is doing jury duty for the "Scranton Strangler" trial. Michael and Holly eventually restart their relationship. After the two get engaged, he then reveals he will be leaving Scranton to go to Colorado with Holly in order to support her elderly parents. After Michael's replacement (Will Ferrell) is seriously injured Jo creates a search committee to interview candidates and choose a new manager for The Office.

Season 8

The eighth season consisted of twenty-four episodes. James Spader reprises his role as Robert California, the new CEO of Dunder Mifflin/Sabre. Andy is then promoted to Regional Manager and works hard to make a good impression on Robert, and asks Dwight to be his number two. Pam and Jim are expecting their second child, Phillip, at the start of the season, to coincide with Fischer's real life pregnancy. Angela is pregnant with her first son, also named Philip, with Sen. Robert Lipton (although it is implied that Dwight Schrute is actually the child's biological father). Darryl starts falling for new warehouse worker Val. Dwight is tasked with traveling to Tallahassee, Florida in order to assist Sabre Special Projects Manager Nellie Bertram (Catherine Tate) in launching a chain of retail stores, along with Jim, Ryan, Stanley, Erin, and new office temp Cathy Simms. Cathy is also revealed to have ulterior motives for the trip, as she intends to seduce Jim, but fails. Robert later kills the retail store project, and Erin decides to stay in Florida as an elderly woman's live-in helper. Andy goes to Florida and wins back Erin, but this allows Nellie to claim the manager position as her own. Robert tells Andy that he has been demoted back to a salesman, but refuses to accept the news, which causes him to be fired. Andy becomes motivated to begin a Dunder Mifflin comeback and joins with former CFO, David Wallace, to buy Dunder Mifflin back from Sabre putting Sabre completely out of business and giving Andy the manager position once again.

Season 9

On May 11, 2012, the series was renewed for a ninth season. Brent Forrester, who has been a consulting producer and writer since the third season, and new series writer Dan Sterling will be new exe cutive producers to replace Paul Lieberstein and Mindy Kaling, who both departed the series after the eighth season. Series developer Greg Daniels is expected to return as showrunner this season. Catherine Tate, who joined the series as a regular in the second half of season eight will return in season 9.