Satisfaction - We've Got the Official Studio Press Release for 'Season 1' on DVD
UNIVERSAL CITY, Calif. - Hailed as "one of the most intriguing rides all summer" (TV Guide Magazine) and "a must-watch new series" (odvdo.com),
Satisfaction: Season One
explores a contemporary marriage through the lens of an imperfect couple surrounded by lies, secrets and intrigue. From executive producer/creator Sean Jablonski (Suits, Nip/Tuck), USA's sexy new drama
Satisfaction: Season One
from Universal Cable Productions arrives on DVD January 20, 2015.
Investment advisor Neil Truman (Matt Passmore, The Glades) is living the American dream - a beautiful family, a comfortable home, a well-paying job. But after Neil stumbles across his wife's shocking indiscretion, he embarks on a secret journey of his own to answer the question: "What do you do when having it all is not enough?" Created by Sean Jablonski (Suits, Nip/Tuck) and executive-produced by Russ Krasnoff (Community), this suspenseful drama is teeming with surprising twists that may change the way you view modern relationships. Enjoy every episode of this seductive series back-to-back and uninterrupted, and get even more satisfaction with all-new deleted scenes that you couldn't see on TV! Bring home USA's Satisfaction: Season One on DVD on January 20, 2015 because "Satisfaction will leave you nothing but-you guessed it-satisfied" (EW.com).
BONUS FEATURES:
Never-Before-Seen Deleted Scenes
Gag Reel
Satisfaction: Season One
Street Date: January 20, 2015
Running time: 7 hours 30 minutes
Aspect Ratio: 1.78:1 Anamorphic Widescreen
Languages/Subtitles: English SDH
Sound: Dolby Digital 5.1; Dolby Digital 2.0 (BONUS)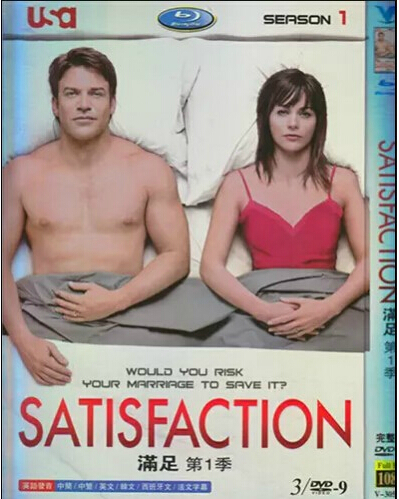 Price:

$4.99

Purchasing Satisfaction Season 1 DVD Box Set requires only $4.99, which is 40%-60% of the price on eBay even plus the postage, in addition, we will present three most popular DVD movies. It will be a not bad choice for you to enjoy them by yourself, present them to your friends, sell them out or dropship(dropshipping) them to your clients.
Date:2014-11-25 【Return】